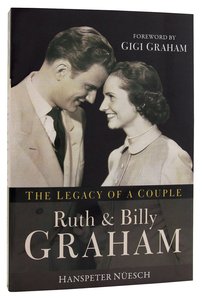 Ruth and Billy Graham: The Legacy of a Couple,
by Hanspeter Nüesch, Monarch Books, 2014, 378pp
When this book arrived for review I didn't know quite what to make of it. It promised an intimate biography of a world famous couple; Billy and Ruth Graham. That the author seemed so breathlessly awestruck at his first meeting with the Grahams didn't exactly dispel my misgivings. The thought of having to wade through over three hundred pages of sycophantic hagiography stretched my commitment to book reviewing almost to breaking point. But from a misguided sense of duty I decided to plough on.
While I can't exactly say that I'm overjoyed that I did, there are some good things in this work. Nüesch isn't blind to the faults of his hero-couple and paints a very human portrait of the well-known 20th century Evangelist and his wife. Their commitment to each other and the Lord whom they served is both endearing and challenging. Nüesch probes the way in which their lives were marked by partnership, authenticity, humility, integrity and so on. Ruth was evidently a woman of spirited piety and a tower of strength to her husband.
Nüesch tells the story of Graham's emergence as globetrotting Evangelist and friend of US Presidents. He describes some of the preacher's key achievements, such as the founding Christianity Today and inspiring the Congress of World Evangelisation, 1974 and its successors.
Theologically, Nüesch places the Grahams on the Calvinistic side of the spectrum. Billy certainly believed that only God can save lost sinners by the gospel preached in the power of the Spirit. But his practice of issuing calls for people to come to the front to make a public commitment to Jesus smacked more of Finney-style revivalism. The writer says little about Graham's accommodating stance towards Roman Catholicism. Indeed at one point he sums up Billy and Ruth's commitment to 'compassionate living' by quoting the words of Mother Teresa.
Stylistically the book veers from an intimate account of the faith and life of a couple to passages of conventional biography that describe Billy's evangelistic ministry and other endeavours. Nüesch can sometimes be a little preachy in his eagerness to set forth the Grahams as shining examples of Christian faithfulness. While not entirely hagiographical, the writer fails to maintain the critical distance between himself and his subjects that is necessary for a rounded biographical portrait. This title is not altogether without value, but putting it kindly, I doubt it should be at the top of anyone's reading list.